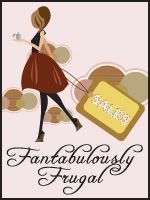 This is from Jenny who is the surfing freebie,contest queen. This is a giveaway to enter at
Fantabulously Frugal
. There are so many goodies in this giveaway. If you enter and win, you get...
Decorative envelopes from etsy seller
Adnagam
Frango Dark Chocolate MintsSunshine Yellow Hair Pins from etsy seller
creamrose
Purple Rain Amethyst Earrings from etsy seller
Sew*Cool Design
Paperchase 8 Folded Cards with EnvelopesSmall change purse from etsy seller
Made by Hank
Cucumber Melon Salty Soap Scrub from etsy seller
Sissy Soap
Soap Nuts from
Laundry Tree
Spring Flower Garden Cupcake Liners from etsy seller
Layer Cake Shop
2 Vera Bradley cloth napkinsMusings Recycled Notebook in Blue from etsy seller
subu
Fleur de Lis Necklace from etsy seller
Bumble Beadz
Marc Jacobs key fobStationery and small letter-pressed notebook from etsy seller
Sarah Drake
Estee Lauder Advanced Night Repair Protective Recovery ComplexCoriander Ivory Small Cosmetic Bag from etsy seller
The Sweet Sugar Beet
Smashbox Lip GlossReusable Sandwich & Snack Bags from etsy seller
Green Street
Reversible Coffee Sleeve from etsy seller
LilE
Running with Scissors by Augusten BurroughsOPI Nail PolishStick With Me, Kid Shopping Tote from etsy seller
Earth Cadets
As well as MANY MORE surprises!Head on over and
ENTER
and, if you do, please, please mention my name on the entry form Bonnie http://nanbon44.blogspot.com/or you could enter Jenny's name http://seivadjen.blogspot.com/as this is why I posted this in the first place. Hope you win something big Jenny...